Buy Glass Railings Toronto
Premium Quality & Durability
Whether you need framed, frameless, spigot or base rail glass railings, Glass Railings Toronto has you covered! We use the most premium materials available on the market and create our railings with quality and durability in mind.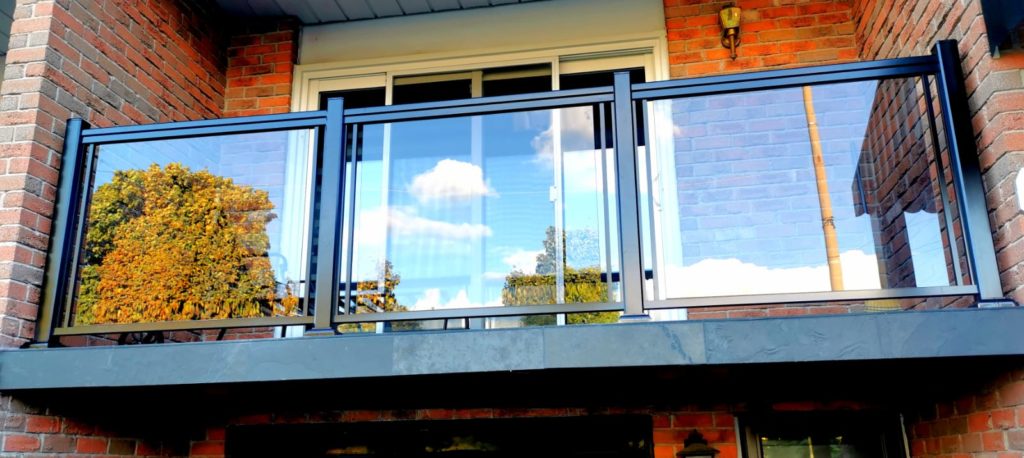 Tips to Keep in Mind When You Buy Glass Railings Toronto
An Overview- Aluminum Glass Railings
Over the last few years, glass railings have become an excellent choice for pools, decks, and staircases, providing owners with a sense of openness and luxury in their space. Glass railings are also well-appreciated for their visual impact by facilitating light flow and transparency. 
Since glass is prone to shattering, those who find themselves looking for glass railings tend to wonder whether durability is a concern. This certainly depends on the type of glass being used, but most manufacturers rely solely on tempered and laminated glass that can resist shocks, assuring safety. This is the main reason why glass railings are common not only in homes, but also in commercial areas like shopping malls, stadiums, or public pools. 
Customization Options When You Buy Glass Railings Toronto
To work their magic, glass railings must be customized to the space where they'll be installed. Well-reputed companies like Glass Railings Toronto will provide customers with consultation and design services, meant to ensure that they pick the very best type of glass railing for their current needs. In general, buyers must consider the mounting surface, the desired height & width of the glass, and the size of the space where the railings will be installed. Luckily, glass railings can be easily customized according to buyers' needs, so design changes are always on the table. 
Speaking of installation, the process is fairly simple, but it's always recommended that you let a professional do the heavy work. Glass Railings Toronto is happy to assist with installation in Toronto and its surrounding cities. These include Mississauga, Oakville, Brampton, Markham, Richmond Hill, Vaughan, and Oshawa. 
Glass Railing Maintenance
Unlike some of the other railing alternatives, glass railings require maintenance every once in a while. Worry not, as maintenance will only take you a few minutes per month. The main purpose of glass is to provide people with clear views. In time, however, dirt can be accumulated, thereby reducing visibility. To deal with this, simply use a microfibre and window cleaner to remove dust and any other dirt spots. Maintaining glass railings is in no way more difficult than cleaning a bathroom mirror. Maintenance will be required more often if the glass railings are installed outside, due to increased quantities of water, dust, and dirt. 
The Average Price to Buy Glass Railings Toronto
Prices tend to vary depending on the type of glass railings you're after. For instance, at Glass Railings Toronto, spigot frameless glass railings start at $129, whereas frameless glass base rail systems start at $89. Framed glass railings are available as well, at a similar price point. Readers must keep in mind that these are premium options, providing great design, alongside a superior degree of durability. 
Bottom Line
Based on these aspects, more and more properties in Toronto are choosing to install glass railings. While less suitable for those who are privacy-conscious, glass railings provide an unprecedented degree of openness and sleekness to any space.